WHO WE ARE AND WHAT WE DO:

Art is everywhere. It can be applied, performed and can be visual in our food, technology, architectural structures, in us humans and even in nature. Here at The Grateful Possums, we are passionate about art.
We are a small creative group (and by group we mean duo) dedicated in giving services rooting from our passions and in any art-form (food & baking, marketing, crafting, design and more). We believe that everyone is very complex and we to discover new things over time which make our interests and passions continue to develop; that's why our offerings continually evolve. 
Aside from services and products inspired by our passions, we also have collaborations with different individuals and partners that share similar interests.
THE GRATEFUL POSSUMS STORY:
It started with a birthday cake…
Back in the Early 2013, Ahlew & Faith have recently quit their jobs and tried to find their passion.  Ahlew was (still is) a frustrated chef and Faith was like a lost sheep, who had a lot of creativity and potential but just couldn't focus on where to use it.
Faith's birthday was coming and they both wanted to make a cake. With zero experience on baking and just a few watched-tutorial videos with a hint of enthusiastic smiles on their faces the two went on and made their first ever Chocolate Fondant Birthday cake. It was a hit! Everyone in their family loved it, and at that time fondant wasn't as popular. The two were so confident with it, they were ready to sell cakes!
And there, 24 Muffin Top was created; Homemade custom cakes. They baked their hearts out day in and day out. There were days that they didn't sleep, there were days that they were so stressed. There were days that they were so exhausted, they almost dropped a cake! But those days were some of the best days of their lives when they're worked up but still happy. Orders kept coming…
But just like in any story, there was a sudden change in scene, an opportunity to work abroad came. With a short notice to their friends and family, the two packed their bags and went off abroad. Professionally, Ahlew took on being an  IT & Product Development Supervisor and Faith as a Human Resource Executive.  They were both back on the rat race corporate world, but left a piece of their hearts back home.
Abroad, Ahlew still daydreamed about making cakes and started to get busy again in the kitchen cooking and baking for the two of them. Faith knew what she needed to do so she got both of them enrolled at Wilton Classes to learn more about cake decorating.
After a 4-year stint abroad backed with a more solid experience and knowledge about the ins and outs of handling a business , a more grateful outlook in life and the same enthusiastic smiles on their faces, they went home to re-launch 24 Muffin Top but now under The Grateful Possums' belt.
They started laying down the groundwork up, from sourcing, testing the products to marketing and setting up their own website and shop. They wanted to experience everything first-hand to fully understand what would work and what wouldn't. All fueled by their passions.
And that's how we started….
We believe that there are a lot of dreamers in all of us that needs help especially with keeping the fire going in achieving our dreams. Our ultimate "Ultimate" goal is to really share our passion and help inspire others to follow your dreams. And we continue to work on that, for the meantime — we try to make someone smile one cake at a time.
Food Lover. A Decent Baker. Loves Memes. IT / Graphic Designer​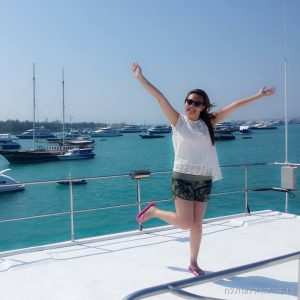 Artsy. Frustrated Interior Designer. Tiny House Enthusiast. Loves to Sleep.