Never in my life did I dream of being a baker or in culinary when I was a kid. But A did, she wanted to be a "Panadero" or "Panadera" when she was a kid. Yap she did, with a bunch of all other things like to be a "Gasoline girl" and a "Scientist". I know what you're thinking and it might sound silly at first but I later realized how amazing of a kid she was. I mean, everyone wants to be a doctor, a lawyer, an engineer, an architect, a nurse, a teacher. All those "professional" jobs that our parents and anyone older than us say we should be. It's not that there's something wrong with that but there's also nothing wrong with wanting to be the person who makes good quality bread which is a staple breakfast for all Filipinos. Like sometimes it's a must have! What are we going to do if there's no more Pandesal?!?! (okay, that's just me exaggerating a little bit.)
But you don't see us selling pandesal do you? Nope, A tried multiple times but it's just not as easy as it looks. You know baking in my opinion is a combination of skills, practice, passion, perseverance and a pinch of LUCK! Mostly luck, just kidding. There's something about the yeast and the temperature… Anyways to make the story short, she hasn't perfected it yet and it broke her heart being not able to do it. That's when we decided to move on to baking cakes and cupcakes instead.
People think its easy to bake a cake, but nope. We had multiple failures before A perfected our Chocolate Cake recipe. It breaks my heart every time I see her feeling down and her doubting herself is just unbearable. It took a lot of research, nightly discussions and prayers so she could keep on baking and not lose hope. Sometimes even if it's your passion, when you fail again and again and again, it will take you some time to have the courage to get up and try one more time and that's only the Chocolate cake we are talking about. Now we have Red Velvet, Carrot, Vanilla and Cheesecake. You also need to add the frosting for all those cakes and fondant too.
I'm really proud of A for being strong throughout this process. It was definitely a test of our relationship and her will to do what she loves. It's true what they say, nothing rewarding comes easy and if you want it so bad you really have to literally fight for it  even if it means the enemy is you yourself. This is the exact reason why we chose baking, because of the fight we put out for it. It was not just a financial investment but emotional and spiritual too. We put our blood and tears into this just to make it come true. (Maybe just the tears but you get what I'm saying here..)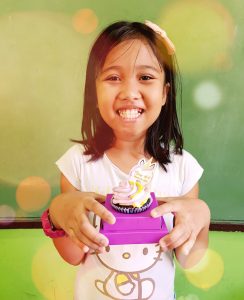 The joy of baking not only comes from perfecting a recipe, it's when you get that privilege to share your clients excitement before the event. That sparkle that you see in their eyes and the genuine smile in their faces when you deliver the cake. That connection you share with them and a chance to know one wonderful person after the other. It sounds dramatic but it is what is really, we live by those moments. I never grew up celebrating my birthday every year, I didn't even get a chance to celebrate my debut with my family. Maybe that's why I like celebrations so much, it somehow fills a space in my heart.
We strongly feel like making moments is important. Of course it doesn't need to have a cake every time but there's just something about a Cake that makes it special. It's more than a gift, a cake can also transpire to words often left unspoken like- we love you, we care about you, we are here for you. e